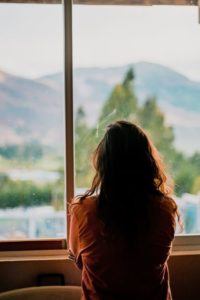 I went to bed April 4th feeling just fine about sheltering in place until May 3rd. Then I woke up on April 5th and thought, "I can't possibly do one more day of this (expletive deleted)." But I will, and so will just about everyone who has had the same thought.
How or where do we find the perseverance to keep going and be better for it?  Three suggestions (or one suggestion disguised as three):
Reconnect with your purpose.  What drives your "desire" to shelter in place?  Your health?  The health of your family members?  The health of others?  A desire to hug?  Break bread with others?  A need to do the right thing?  A sense of community?  The sacrifices you make will feel less intrusive and more surmountable if you stay connected with purpose.  Whatever it is, make sure it is heart-connected rather than head- or ego- connected.  We are far more driven by feelings than intellect.
Remember you've done this before.   Each of us has struggled with something scary or hard — physically, emotionally, spiritually or intellectually — as a kid or as an adult.  Some of these are more obvious:  athletic training, managing or surviving illness, being a parent or a boss, recovering from addiction or bankruptcy, divorce, overcoming a childhood incident, a death of a loved one, etc.  Whatever yours was, you had to find a way to navigate a down moment, a wall, or a new challenge that came on top of existing challenges.  In those tougher moments, what got you through?  A nap?  A phone call to a friend?  Meditation?  A special treat?  Forgiving yourself?  Appreciating your humanity?  Chances are pretty good you sourced something in yourself, even if it was prompted from something external.  Reconnect with that.  How can you use that experience to help you now?
Do this exercise:  Write down those scary or difficult times.  Write down why each one was scary/difficult.  Write down what your new learning was from that event.  Write down what lifetime skill came out of it.  Now reflect.  In those tougher moments, what returned you to calm, focused, confident, and capable?  How might you use that experience to help you now?
Be mindful to keep your attention on you.  We all have a tendency to "look over the fence" at others' experiences and judge ours as "harder" or minimize our struggle.  Not useful.  In that moment you are stepping away from your own wisdom and internal experience, which has so much to share and support you through whatever challenge you're facing in any given moment.  Also, watch how you talk to yourself.  Try to avoid "fight" or "hunker down" or "push through" or the like.  You're looking for words that are closer to surrender, relief, less work, less struggle, etc.  Almost anything can be managed one day at a time, one breath at a time, one heartbeat at a time.  Most of us have learned this one way or another.  It's tried and true.
Losing money or having one's financial goals seemingly derailed can be devastating.  This shelter-in-place practice can be draining.  If you need a lift over a down moment, please reach out.