July 2020
I recently did a virtual presentation for women executives on how they can move their financial lives forward, even while navigating a busy schedule. These were the 10-minute projects that I suggested: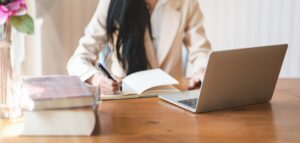 Get a password manager.  Protect your accounts, consolidate information, eliminate clutter — these make it easy on someone who might have to take over your financial affairs from you.  I like LastPass.com for this and  I've heard good things about OnePassword.com.  Both are low- to no-cost.  Sign up for one and start using it.
Know where your assets are.  Now that you have your password manager, go find your accounts and their online portals and put them in the password manager.
Hire an estate planning attorney.  Getting your estate planning done is a great act of love for yourself and your family.  The key here is to hire a "driver" — that is, an attorney who will keep you accountable through completion and "drive" you to get it done.
Check your beneficiary designations on all accounts.  Making sure who you want to have your money if you die is actually the person you named. This is critical for blended families and remarried couples.
Fund your retirement accounts.  While you're checking on your beneficiaries on your retirement accounts, make sure you are contributing the amounts you want to your employer's retirement accounts.  Consider the Roth 401(k) if it is available to you.  Consider increasing your contribution if you're over 50.
Get an umbrella policy.  This is a cheap way to protect your assets. Call your auto insurance agent and see if getting an umbrella policy makes sense for you.
Figure out your bank's spending tool.  You should know what you're spending, even in a broad-brush way, because you can't plan for any financial goal without knowing this piece of information.  Almost all banks' online portals have a "spending tool" that will allow you to see your total withdrawals for the month and year. Go play with it so you'll understand it.
These are the topics that come up most often with my clients.  Like your health professionals who keep telling you to drink more water and get more sleep, these are the ones I keep repeating for financial health.  If you need assistance with any of this, please reach out.