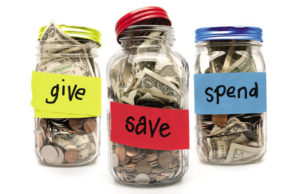 In my last two entries, I've explained how important it is to teach children early about money so they gain the skills and the values you want them to have to build their own wealth. I've also outlined what I do at home to help teach these skills. While I knew this would benefit my kids, I never foresaw some of the biggest benefits that we've gotten.
For the kids
They learn to identify and count money.
They have conversations about what it means to give away money, why, and to whom.
They have conversations about why long-term savings is important, what it can be used for, and the cost of things like college, cars, and houses.
They learn about bank accounts and watching savings grow by little bits over long periods of time.
They learn to save money for that special toy.
They learn how awful it is when that special toy turns out to be cheaply made or otherwise disappointing. Don't fix it, despite the temptation. Let them live with the consequence.
They learn to make decisions about the many toys that are available. This is also the most painful part at first. Cumulatively, I've stood in Target for hours waiting for decisions to be made and watching tears fall about what's not getting bought.
They learn how awful it is to lose money. Again, let them live with this consequence. Don't replace it. They will learn. Remember, it's better to learn now when it's $5, rather than in 20 years when it's $10,000. Let's face it, when you lose $20, no one makes you whole. When you get a parking ticket, no one else pays it and it doesn't go into a jar for a future pizza night. Replicate the real world as much as possible.
For the parents
While I don't base allowance on doing chores, I do fine them for not living up to their responsibilities  or not responding to repeated requests to do things (like turning off the bathroom lights). Kids don't like chores, but they really don't like to be fined.
Mom and Dad rarely buy the kids anything they want in the store. Instead, my kids are told to save their money.
I have since allowed my older child to buy violent video games that have guns in them, but I also made him identify a charity that was focused on urban violence, domestic violence, etc. I now charge him a monthly "violent video game offset" which is donated to that charity. This comes out of his spending money, not his donation money.
You get a hard look at your language around money. What are you saying and how are you saying it?  Is it what you really want your children to learn?
Being in the store and watching my kids look at toys they like gives me ideas for birthday gifts and other presents. I've also learned a lot about child-directed advertising, child development and what toys they're attracted to and when, and gender-related merchandising.
Some of my proudest moments have been when I've seen my kids learn about "cheap" toys, toys that initially hold their attention but aren't worth owning, choosing to wait until they have more money to get what they truly want, and choosing a toy because they really love it (even though I wish it had stayed in the store). I didn't have to teach these things. My kids learned them with direct experience all by themselves.
The kids now expect me to say "no" when they ask me to buy them something. We still go through the exercise, but I can't remember the last tantrum or the last time they didn't just let it go.
Grandma loves to set up my allowance envelopes. It gives her something to do when she visits, and she loves doing this for her grandkids. She sets up six to seven months' worth of envelopes for us in advance.
As you can see, the benefits of managing money early are enormous. My experience as a financial planner is that few of us are taught how to manage money as kids, if ever. Few people are hard-wired to handle their money in a way that honors the time and hard work they sacrificed to get it. Give your children this gift. Teach them to fish.